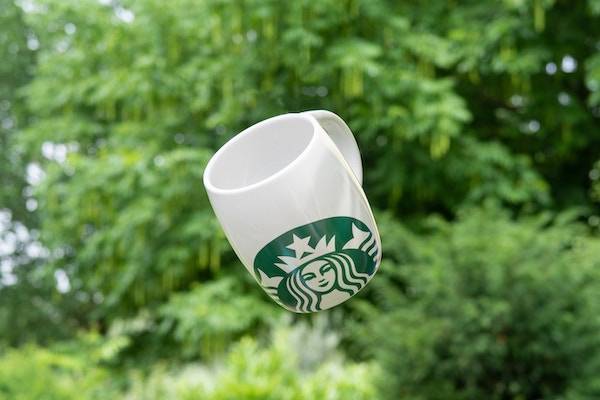 Top 20 Keto drinks in Starbucks
Visiting Starbucks on the keto diet can be tricky due to the insane amount of delicious drinks they serve—most of which are rich in carbs, obviously. 
If you're looking for something keto-friendly to order at Starbucks, here's a quick list to get you inspired!
Keto-friendly classic coffee drinks
1. Freshly brewed coffee 
Plain coffee, brewed right away. Choose between blonde roast, dark roast, Pike Place roast, and other options - all of them with zero carbs! 
2. Espresso shots 
No time to waste on fancy drinks? Maybe an espresso shot is your perfect kind of keto-friendly coffee. Ideal for a Monday morning. 
3. Americano 
Basically, an espresso shot mixed with hot water to soften the drink. Features all the flavor of coffee without the brutal straightforwardness of a concentrated espresso. 100% low-carb. 
4. Freshly brewed tea 
Any kind of tea is virtually carb-free, so you can binge drink on Earl Grey and Jasmine Green Teas to your heart's content without worrying for your ketosis.
Low-carb cold coffee drinks
5. Cold brew 
For an extra kick of flavor and caffeine, definitely try the Starbucks cold brew. Without any syrups or milk, this drink packs as many carbs as freshly brewed coffee: none at all. 
6. Unsweetened iced coffee 
By default, the iced coffee at Starbucks comes sweetened with classic syrup, and that's about 20 full grams of sugar. Order your drink without the syrup—or swap it for a sugar-free version and enjoy a fabulous keto-friendly drink for the hot summer days. 
7. Iced coffee Frappuccino-style (aka Faux Frapp) 
The usual Frappuccinos at Starbucks pack something between 30 and 90 g of pure carbs thanks to all their syrups and milk. For a low-carb version, you can just ask your barista to prepare an iced coffee Frappuccino-style with a few splashes of heavy whipping cream. To be sure, ask them NOT to add any Frappuccino syrup or base. Just the iced coffee, heavy whipping cream, and maybe a few splashes of sugar-free syrup—blended into frapp excellence. 
8. Iced coffee cinnamon drink (aka Iced Cinnamon Refresher)Order cold brew or iced coffee (without the classic syrup) as a base and mix it with a few pumps of sugar-free vanilla syrup AND sugar-free cinnamon dolce syrup. This drink feels like a real dessert but with no carbs to jeopardize your ketosis. 
9. Iced caramel macchiato 
The recipe goes like this: two espresso shots on ice, a good dose of heavy whipping cream, and topped with sugar-free vanilla syrup AND sugar-free caramel syrup. Kind of far from the carb-ridden macchiato you may be used to, but still delicious if you give it a try.
Keto-friendly hot coffee drinks 

10. Keto-friendly mocha 
The regular Starbucks mocha is made of coffee, milk, whipped cream and mocha sauce—and contains about 20 g of carbs. To make it more keto-friendly, ask the barista to replace the default mocha sauce for sugar-free mocha sauce. You can pack some extra fats into your drink by switching the milk for heavy cream. 
11. Low-carb flat white 
To enjoy your favorite flat white in a safe way for your ketosis, swap the steamed whole milk for either almond milk or a blend of half water and half heavy whipping cream. 
12. Low-carb latte 
Start with a tall Americano, but ask your barista to blend in only 3/4 of water and top it with steamed heavy cream. For an extra punch of caffeine, pour in an extra espresso shot. 
13. Low-carb cappuccino 
Swap the milk for heavy cream - and you've got yourself a keto-friendly cup of delicious cappuccino. Try it out with different sugar-free syrups to find your perfect blend. 
14. Tweaked caffe misto 
Sometimes called "cafe au lait" (the French for coffee with milk), coffee misto is a delicious blend of half Starbucks fresh brewed coffee and half steamed milk. If that's your thing, just swap the milk for heavy cream for a more keto-friendly version of this immortal classic.
Low-carb tea-based Starbucks drinks
15. Low-carb tea lattes 
A tea latte is any kind of tea mixed with milk. For a low-carb version of this drink, just switch the milk for heavy cream and you're all set. Experiment with different teas, sugar-free syrups, and sweeteners to find your favorite keto-friendly tea latte combination. 
16. Keto white drink 
A particular kind of tea latte, this drink is a blend of peach citrus white tea (unsweetened, obviously), a splash or two of heavy cream, and topped with some 2 to 4 pumps of sugar-free vanilla syrup. 
17. Keto pink drink 
This one has quickly become one of the most popular and Instagram-worthy keto drinks at Starbucks. To try it out, order one passion tango tea mixed with a good splash of heavy cream and topped with a few pumps of sugar-free syrup. Oh, and don't forget to get your camera ready for what you're about to see because it's just gorgeous! 
18. Keto-friendly London fog 
Technically, the London fog is a type of tea latte. The classic recipe is a delicious blend of Earl Grey tea, vanilla syrup, and steamed milk, but you'll have to make a few tweaks to make it keto-friendly. Order your drink with sugar-free vanilla syrup and heavy cream instead of the default milk, and you should be in the safe zone. 
19. Iced tea lattes 
Any iced tea mixed with heavy cream or half-and-half, topped with a sugar-free syrup of your choice. For example, you could go for a London fog iced latte by ordering an iced Earl Grey, mixing it with heavy cream, and adding some sugar-free vanilla syrup. 
20. Pineapple dream iced tea 
Also called the Keto Colada, this drink is based on a portion of iced Black Tea (don't forget to ditch the classic syrup) mixed with pineapple infusion and a few splashes of heavy cream. Top everything with a few pumps of sugar-free vanilla syrup for extra flavor.
In general, to enjoy something at Starbucks AND stay in ketosis, just follow these simple principles: 
- Always switch the milk for heavy cream. If that's not your thing, go for half-and-half or almond milk 
- Binge on the sugar-free syrups but stay away from the regular ones. A single pump of ordinary syrup could be enough to blast you off ketosis in a matter of seconds (even if you're under your daily carb limit) 
- Communication is key: if you're not sure whether the drink you want has any syrups or other sugary ingredients in it, don't hesitate to ask your barista 
Keep these three rules in mind - and start enjoying our list of keto-friendly Starbucks drinks today!
OTHER ARTICLES YOU MAY LIKE