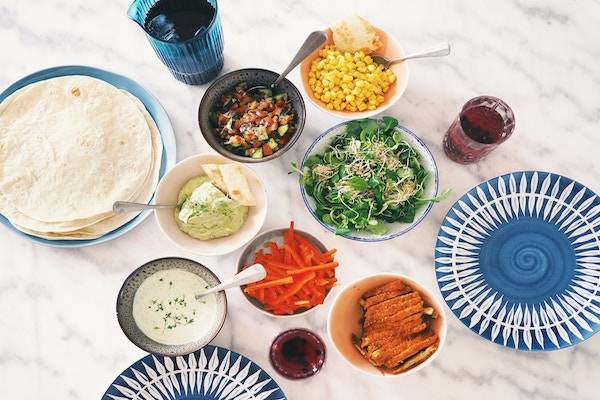 What comes to mind when you hear the term "Mexican foods"? Tamales, tacos, Burritos, Fajitas, and Nachos, right? 
Well, if you are on keto, these authentic Mexican dishes may not be safe to try. This because they are carb-heavy and any go at them will mean forfeiting your weight loss goal or any other goal you have with keto diet. But, does that mean you cannot eat Mexican foods when on keto? The answer is NO! 
A look beyond the standards of traditional Mexican foods reveals that there is a hidden world of keto-friendly Mexican foods you can try. There are indeed numerous ways to enjoy the Tacos Tuesday and remain on course with your keto goals. 
But how is that possible? 
I get this question frequently, and today, I have to set the record straight. This was one of my most difficult articles to research, and it has taken time to collect this information. Here are some of the great ways to enjoy Mexican foods on keto.

There is no doubt; the breakfast is the most important meal of the day. As such, when you are on keto, the first meal of the day can set you on course or derail you to achieve the required daily calories and carbs limits. 
Let's take the Mexican Breakfast Burritos, which is an excellent option for Mexican foods lovers. Typically, breakfast burritos include ingredients like flour tortilla, beans, cheese, eggs, and meat. Consequently, they contain approximately 650 to 700 calories. This is within the recommended caloric range to enter ketosis. 
On the other hand, the burritos contain 70 to 75g of carbs. Unfortunately, when the flour tortilla is used as an ingredient, it can raise carbs count by up to 60 grams. For this reason, it's advisable that you take burritos that contain no flour tortilla, beans, and rice. This way, you'll keep the carbs and calories counts within the recommended range. 
Other Mexican breakfasts that are keto-friendly include: 
· Mexican omelet 
· Scrambled eggs with queso fresco 
· Machana con huevo
Mexican main dishes are undoubtedly a favorite for many dieters. The hot spicy taste, plenty of flavors, and highly nutritious caliber make these foods popular all over the world. But, not all Mexican main dishes fit the keto diet lifestyle. 
Some of the foods to avoid when on keto include tacos, tortillas, nachos, enchiladas, quesadillas, tamales, burritos, chimichangas, and taquitos. However, some of the fillings for these foods are perfectly fine for keto. Therefore, you can consume them separately and have no qualms about losing track of your keto goals. 
Generally, consuming Mexican seafood as the main dish is in line with your keto lifestyle. For example, if you love fish, try grilled Mexican while fish like tilapia. The carb count may vary based on how you prepare the fish, but normally, a serving of grilled fish contains no carbs. 
Additionally, it's safe to consume grilled meats, primarily, chicken dishes or steak grilled with Mexican flavors like carne asada. More often than not, these dishes are served with salsas and grilled vegetables, which make them super healthy. The best part is that regardless of how you prepare grilled Mexican meat the carb count is most likely to be zero. 
Mexican main dishes that are low-carb include: 
· Chile Rellenos 
· Carne Asada 
· Chicken Rojo 
· Chile Verde 
· Pollo pibil
When it comes to appetizers, Mexican cuisine has plenty to offer. Particularly, Mexican cuisine appetizers are starchy foods that are often fried. As you may expect, these appetizers don't help you stick to your keto plan. However, the Mexican cuisine offers a few appetizers that contain low carbs count. 
For example, Guacamole is a popular Mexican appetizer that's not only delicious, but it's also highly nutritious. This food can be taken with jicama slices or cucumber to dip. Normally, a typical two-tablespoon serving of Guacamole provides 50 calories and 3g of carbs. Besides, most of the calories delivered by guacamole are from healthy fats. 
Another popular appetizer is Ceviche; citrus-marinated seafood often served with raw vegetable. While this dish can vary in terms of ingredients from region to region, it's still safe when you are on keto. One serving of ceviche contains up to 175 calories, but only delivers 5g to 7g of carbs. 
Other examples of appetizers that naturally keto-friendly include: 
· Pico de gallo salsa 
· Avacado salsa 
· Queso dip
Mexican foods without traditional Mexican drinks are not complete. Take margaritas, for example; popular Mexican beverage. Margaritas contain high sugar content, hence not safe for keto diet enthusiasts. However, there are sugar-free margarita versions which you can try when on keto. Ideally, when you are on keto taking traditional margarita prepared with lime juice, tequila, and triple sec is the safest bet. Such margarita contains 8g to 16g of carbs, and it has no extra sugar
As you can see, there are a plethora of ways to enjoy Mexican foods when on keto. The level of "keto friendliness" of these foods largely depends on the ingredients used. The foods I have mentioned above are naturally low-carb and are generally safe is you are o keto. 
However, as you may notice, other Mexican foods can be adjusted to suit the keto diet lifestyle. In most cases, you'll have to substitute the "carby" ingredients to make the Mexican dishes low carb. Above all, you'll need to be mindful of how you cook these foods to maintain their low carb profile. Some of the foods that can be adjusted to suit keto lifestyle include: 
· Mole sauce 
· Agua fresca 
· Rompope 
· Quick tuna tacos 
If you are on keto and want to enjoy a Mexican meal, it should be easy for you. You can even head to your favorite Mexican restaurant and order some of the foods I've mentioned in this article. If you stick to the Mexican foods which are naturally low-carb, nothing will go wrong.  

OTHER ARTICLES YOU MAY LIKE: