Regular price
Sale price
$ 33.99
Unit price
per
Sale
Sold out
Serving

3000 mg Beef Liver
(200 capsules per bottle)

Thyroid Support

Supplement used for thyroid health and natural energy.
Nature's Multi-vitamin

Quality source for Vitamin A, K, Iron and the Vitamin B Complex. Natural high quality Heme Iron for blood health. Great for the Keto, Paleo or Carnivore diet.
Pasture Raised

Grass Fed and Finished from New Zealand's pesticide free grass dense pastures. GMO Free and 3rd Party Tested.
Lifetime Warranty

No hassle refunds. Got Questions? Email at support@OneEarthHealth.com or call/text us at 1-888-444-7760.
FREE Shipping

Secure Checkout

Lifetime Warranty

USA Based Company
View full details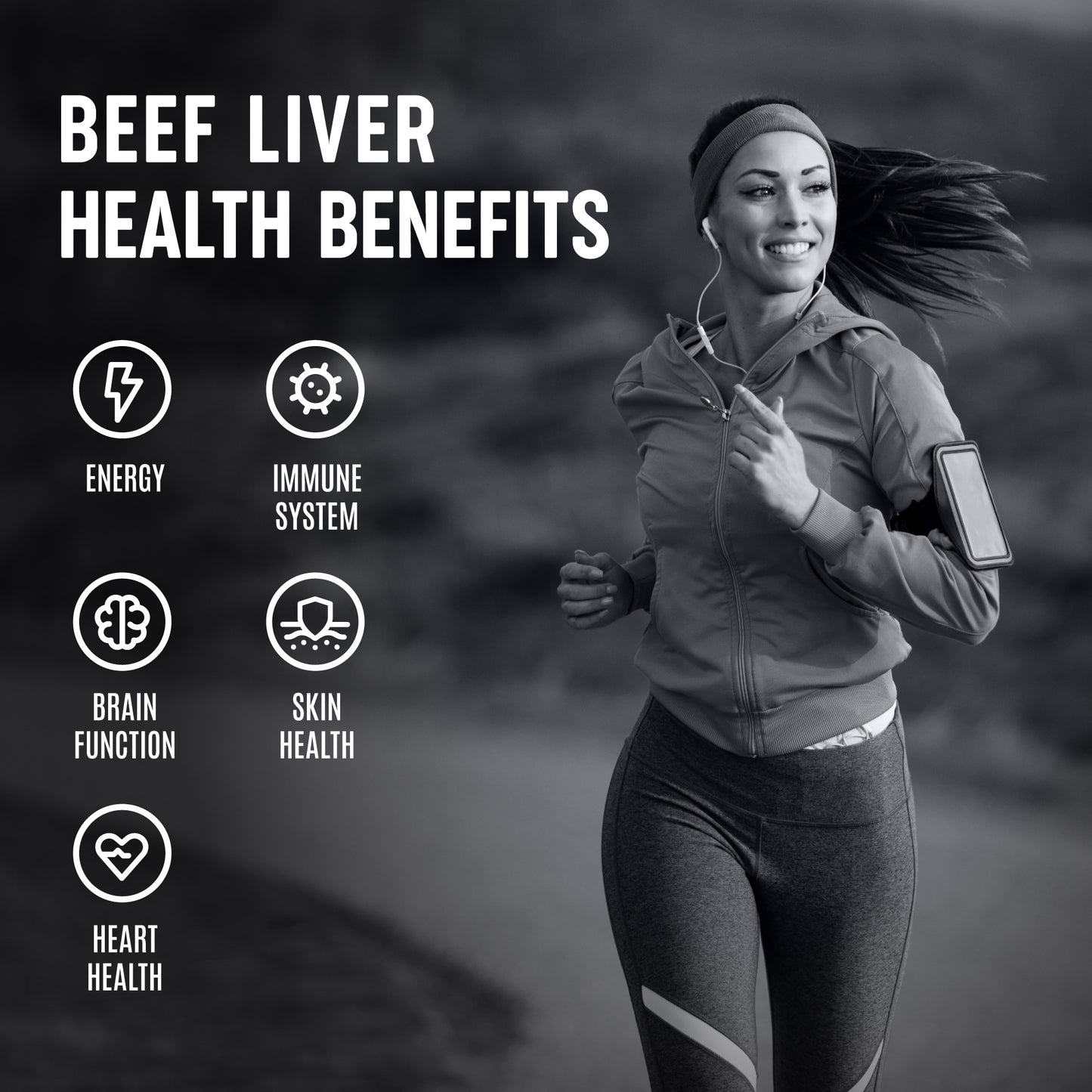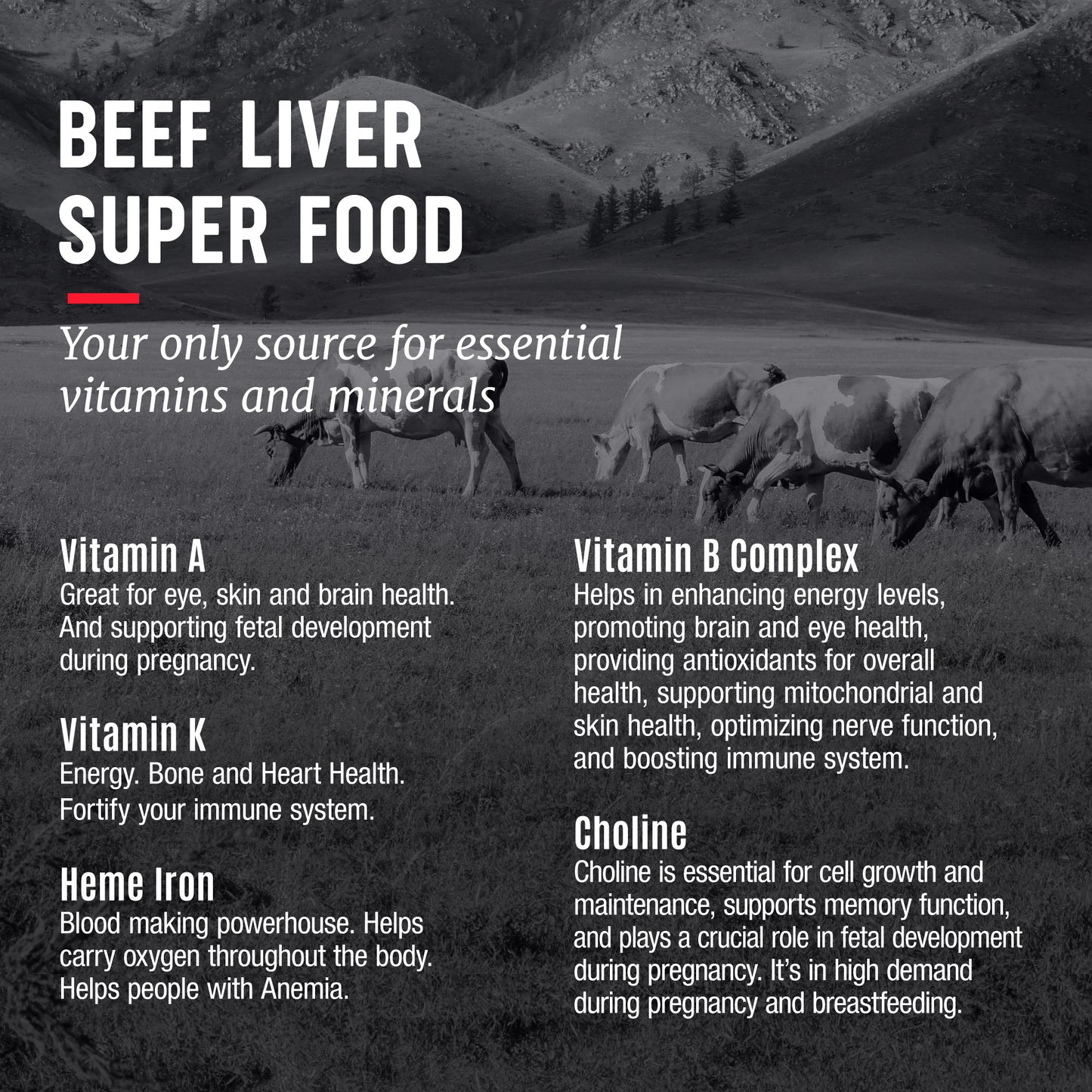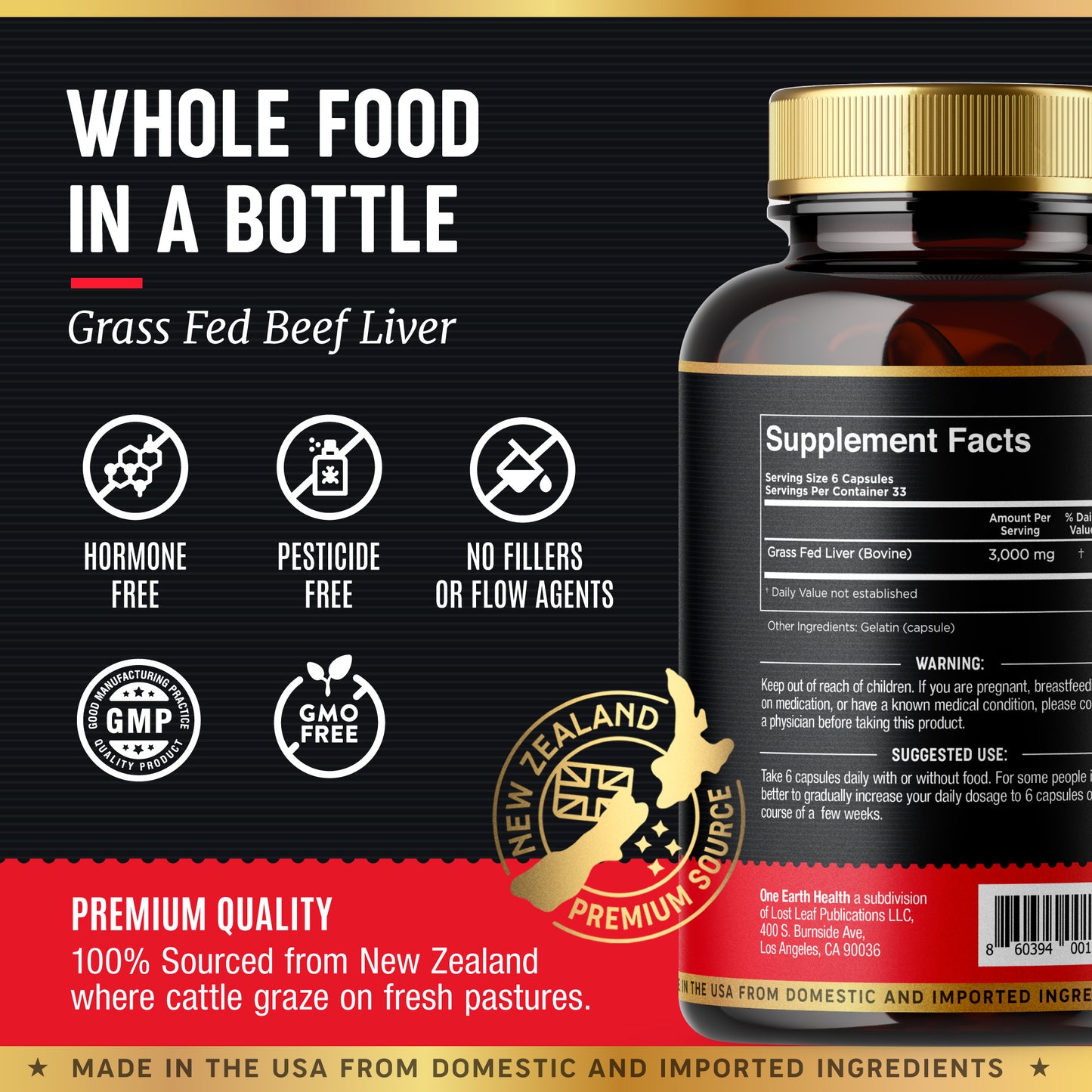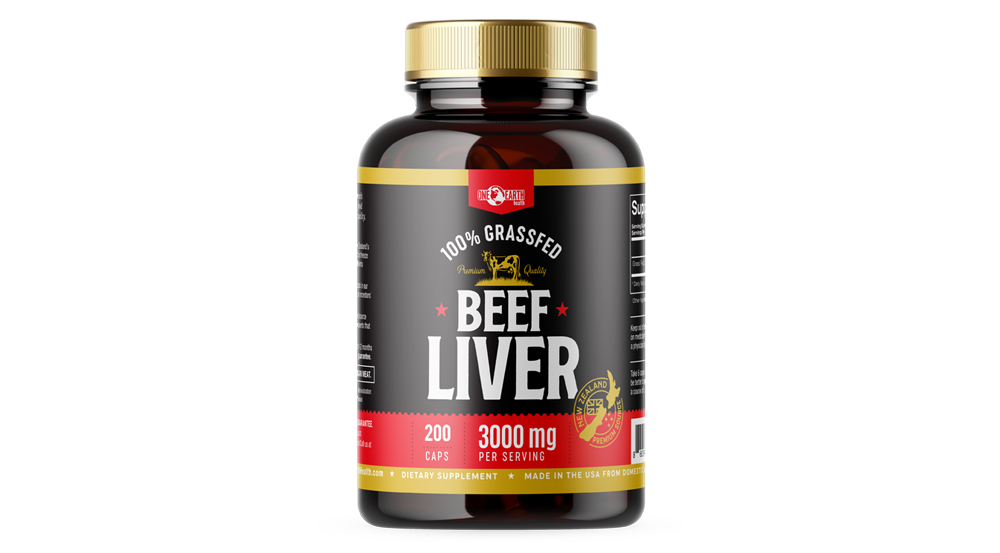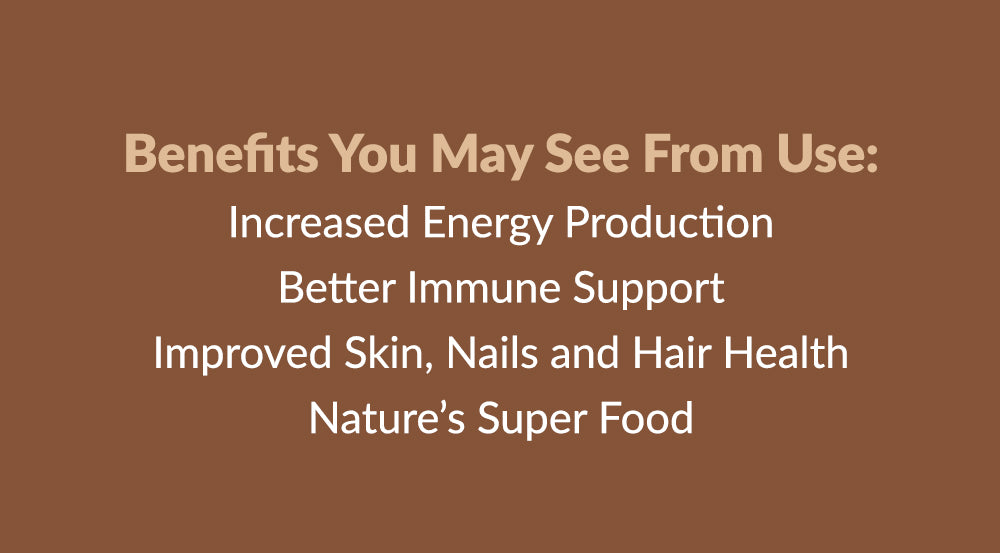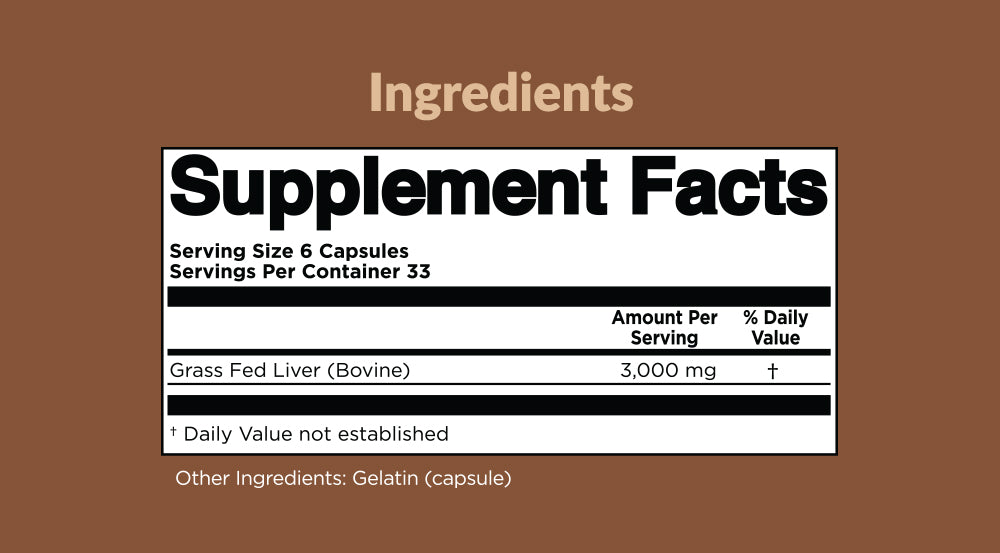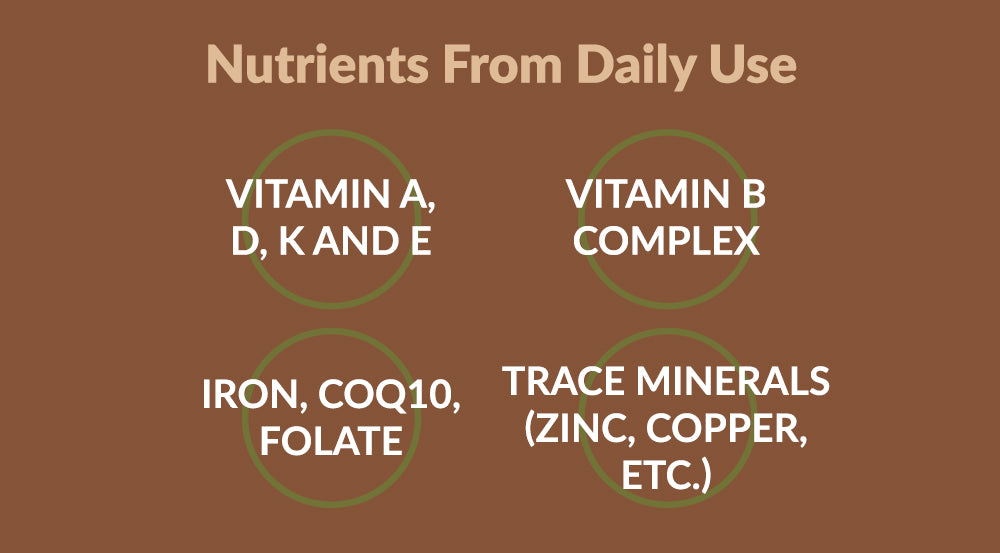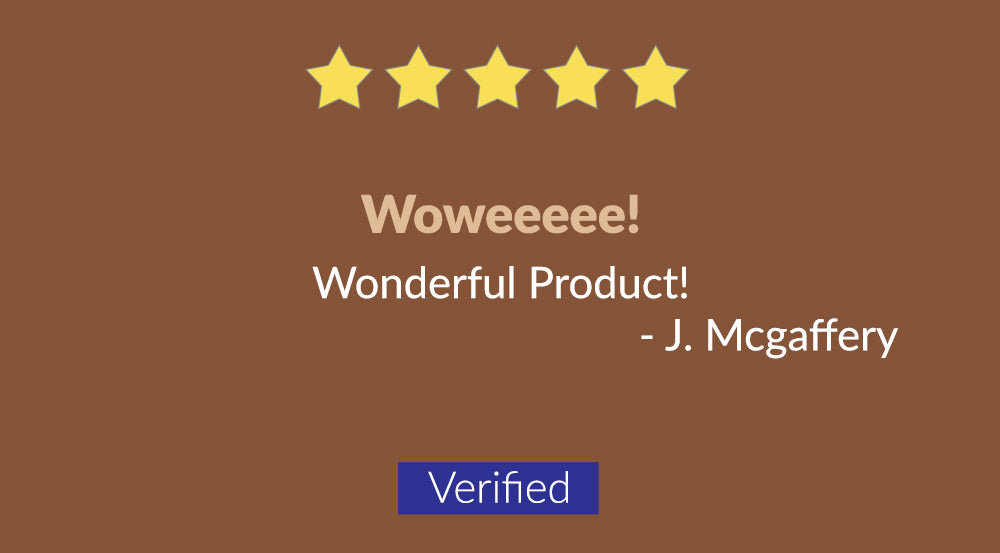 BEEF ORGANS
Grass Fed & Finished from New Zealand
Beef Organs are one of the most nutrient dense foods out there. It's truly a super food that's becoming popular again. People have seen many benefits by including organ meat into their diet.
More importantly we pride ourselves on the source – grass fed and finished cattle that are pasture raised in New Zealand. Even the USDA shows that New Zealand liver has 50% to 450% more vitamins than USA based liver!

One Earth Health Trusted By Over 300,000+ Customers
One Earth Health Beef Organs
PHILOSOPHY - Straight from Dr. Weston Price who advocated a nutrient dense diet that includes a large amount of minerals and fat-soluble vitamins found in butter, fish, organ meat, bones, etc.


UNIQUE RESULTS - To get the best performance you want the highest quality nutrients going into the body. What you eat is your fuel and you always want to be at your peak performance.


HIGHEST QUALITY - Don't cheat your body by saving a few dollars for lower quality products. No one wins in the long run.

Grass Fed & Finished

Lifetime Warranty

Small Batch Manufacturing
The Manufacturing Makes A Difference
Third Party Tested. No Fillers or Lubricants. Pesticide free!

Small batches are made to ensure product quality.

Check FAQ below for detailed explanation for each ingredient. Or you can watch the video at the page's beginning as well.
How To Use
Take 1 serving (6 capsules) a day with or without food.

Everyone is different. Some will feel a difference after 1-3 days. Other people may need 1-2 months.

Others may need to start at 1 capsule daily and slowly get to 6 a day over the course of a few week. Remember we offer a lifetime guarantee with all of our products.
Questions and Answers
Are the cattle grass fed and finished?
Yes they are. They are grass fed and finished on New Zealand's pesticide free pastures.

How are the organs processed?
Organs meat is freeze dried to capture more minerals, vitamins and other nutrients, the loss of which are caused by cheaper heat processing methods.
What's so special with New Zealand cattle versus USA or another country?
The cattle are grass fed and finished with better quality pasture grass and along with more natural cattle farming methods that makes the organ meat a richer source of vitamins.
The United States Department of Agriculture website shows that New Zealand organ meats have more nutritional value than U.S. based organ meats.
Take a look at the difference between U.S. and New Zealand liver meat:
Vitamin B12 - New Zealand liver has 43% more than U.S. based liver.
Vitamin B5 - New Zealand liver has 44% more than U.S. based liver.
Iron - New Zealand liver has 72% more than U.S. based liver.
Thiamin (Vitamin B1) - New Zealand liver has 96% more than U.S. based liver.
Vitamin A - New Zealand liver has a whopping 459% more than U.S. based liver.
(Source: U.S. Department of Agriculture Nutritional Database)

What does Liver organ help with?
Known as Mother Nature's multivitamin. A superfood powerhouse for the mitochondria.
Liver is rich in Vitamin A, K, heme iron, phosphorus, copper, selenium and choline. And packed with the vitamin B complex: B1, B2, B3, B5, B6, B7, B9 and B12.
Are the organs defatted?
No, those vitamin rich fats are kept with the organs.

How many capsules are in a bottle?
There are 200 capsules in each bottle.
How many capsules equally to 1 oz of meat?
The daily dosage of 6 capsules equal to 1 oz of meat. Remember, meat has a lot of liquid in it. Our capsules are desiccated, which means the liquid is taken out. Thus it will take a less amount of the moisture free capsules to equal 1 oz of liquid filled meat.
What does "like help like" mean?
There's a popular belief that organ meat is part of "Like Helps Like" this means for heart issues, one should eat the heart organ.
Dr. Heidi Frtiz, MA, ND perfectly states the reasoning below:
"Theific basis for the use of animal glandulars is that they contain hormones; hormone precursors; and an array of nutrients such as vitamins, minerals, and amino acids required for healthy organ function. In addition to providing nutrients, glandulars are thought to have organ-sparing properties; by supplying exogenous hormones and hormone precursors, they allow rest and recovery of the overburdened organ."

In other words, taking the "like helps like" organ meats may help give the body's organ rest to recuperate.

Should I take 6 capsules a day?
It's a good daily dose because it equals to 1oz of organ meat intake per day. Remember that 1oz is the total amount of the different organs in our capsules. And there are 5 organs, so each day, with 6 capsules you are taking 1/5 oz of each organ. So each day with 6 capsules you are taking 1oz of the combined 5 organs.

Where is the bottle made?
The bottle is manufactured in the USA and the organs are sourced from New Zealand.
What is the warranty?
It's a lifetime warranty. Just contact One Earth Health at Support@OneEarthHealth and we will help with the refund process. Or call us at 1-888-444-7760.
Shipping & Returns
What is the cost of shipping?
We offer free shipping anywhere in the US regardless of quantity.
When will my order ship?
Orders ship in 1-2 business days. As of right now, shipment will be through Amazon fulfillment service and will arrive in an Amazon package.

Do you ship internationally / outside of the US? What is the cost?
Yes, we do ship internationally. Please allow up to 7 business days to process shipment.

What is the latest to get my order shipped the same day?
Orders are sent to fulfillment at 10AM Eastern. Once the order has been received by fulfillment we are unable to make changes or cancel it. Please still allow 1 business day for order processing. Please note that this option is based on availability.
What is your Return Policy?
We back ALL of our products with a no questions asked return policy. Just contact us and we will help with the refund process.
How can I reach you?
You can either email us at Support@OneEarthHealth.com or call us at 1-888-444-7760.
Do you autoship or offer any subscriptions?
As of right now, no. But that will change in the future.
Do you offer any special discounts?
We run various promotions. Subscribe to our newsletter to stay up to date.
Great Product!
I have been taking this one month ~ I truly feel better with less brain fog than I have in years! I feel more energetic and very hopeful that it will keep improving over this next month! Thank you for making such a great product!
Give it a try
These were recommended to me by a friend. I've recently become anemic due to health issues and wanted to take something more than just an iron pill. I'd like to eat more liver but can't bring myself to do so. This is a great option. I noticed after I started taking 6 a day that I had more energy and was less winded when doing tasks. I feel good knowing I'm ingesting a high quality product. Not only do I take these now but my 19 year old started as well.
Beef Liver Caps
Pleased w/ my purchase! Just started 2nd bottle & have definately noticed an increase in energy, a decrease in fatigue, & seem to be more alert & cognizant. Also, extremely fast shipping, as long as they have it in stock!
Beef Liver Supplement
I have been going to naturopathic doctors for 30 years. This past year, I have been doing some studying on iron supplementation. A tricky deal. One must have a healthy balance of the mineral, copper to properly absorb and store iron in the body. We have a problem with this mineral in American soil- testing has shown it. Healthy soil is very important if we are to get all the rich minerals necessary for optimal health. But it's no good if it is depleted (many factors). Long story short, I started taking beef liver supplements ONE EARTH HEALTH and the cows that roam freely on the rich mountain soil of New Zealand where all the necessary nutrients are found and tested to be abundant in this virgin soil. Even, the final product of the beef liver supplements is fully tested to ensure that all of the necessary minerals are found. I have felt an amazing difference after just one month! Little by little, more and more stamina! I love my grass fed, beef liver from ONE EARTH HEALTH! and a quick thank you for such a superior product and the free shipping! Nice! :) I'm a very satisfied customer.
a must
I use it everyday to maintain my health.