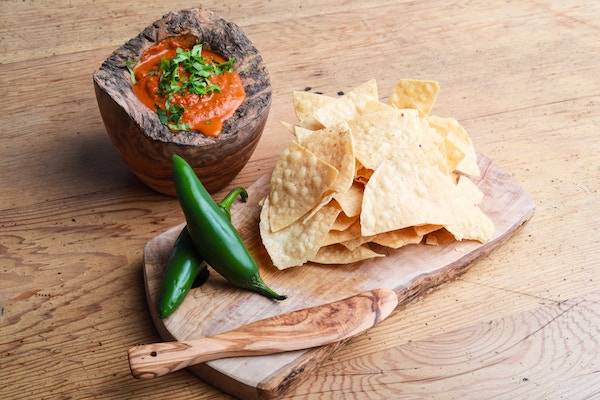 Do you love tostadas, quesadillas, and tacos? If you do, then you probably take these dishes regularly. But, do you know what these dishes have in common? One, they are mainstays in the Central and South American cuisines. Besides, the dishes use the tortilla as one of the main ingredients. So, what are tortillas? In this article, I will take you through the things you should know about tortillas. You'll know what a tortilla is, as well as their nutritional components. Above all, I'll review some of the best tortilla products you can buy from the store.
A tortilla is a flat, thin, round bread made from wheat flour or unleavened cornmeal. The name tortilla was inscribed by Spaniards living in Mexico. The name is derived from the Spanish word "torta" which means round bread. While tortilla originated from Mexico, today, the dish is enjoyed across all regions in the USA. 
There are two types of tortillas, namely: Corn tortilla and flour tortilla. 
Firstly, corn tortillas are quite pliable but have a chewy and firm texture. As the name suggests, corn tortillas are made from ground corn. The best thing about corn tortillas is that they are made from whole grains. Because of this, they are rich in fiber and usually deliver a range of minerals and vitamins. Besides, corn tortillas have a rich bust of flavors and are more versatile than the flour tortillas. As a result, corn tortilla is best for corn chips, tacos, and taquitos. 
Secondly, flour tortillas are made from wheat flour. Flour tortillas are pliable, but unlike the corn tortillas, they are very soft. Also, flour tortillas harbor a neutral sweetish flavor and are often preferred for dishes like enchiladas, burritos, and soft tacos. 
The type of tortilla you use comes down to two things — one, which one you prefer, and second, how you intend to use the tortillas. For example, if you are on keto diet, corn tortilla would be the safest bet. This is because corn tortilla contains fewer calories, which is a vital aspect, especially when you want to lose weight. On the other hand, if you are swayed by soft texture and rich flavors, then flour tortilla is a great option.
The nutritional component of tortillas
The nutritional value of tortilla vary widely based on how they are prepared and the ingredients used. As such, homemade tortillas may not carry the same macronutrients as prepackaged tortillas. And even if the nutrients are the same, their quantities cannot be the same.Here are the nutritional components of the two types of tortillas:
Nutritional Facts                  Corn Tortilla                 Flour Tortilla 
Calories                                62/ounce                          85 
Net carbs                                  12g                              14g 
Fiber                                           2g                               1g 
Fat                                              1g                               2g 
Protein                                        2g                               2g 

It's always wise to check the nutritional facts of the tortilla product, especially if you have medical conditions or are observing a strict diet plan like the keto diet. Fortunately, if you are on a keto diet there are numerous low carb tortilla products on the market. You can buy the tortillas from the nearest store and add them to your recipes to suit your lifestyle. 

Best tortilla product you can buy from the store

If you are on keto, here's is a great selection of low carb tortillas you can buy online or from the local store. 
La Banderita Xtreme High Fiber Low Carb Tortilla 
As the name suggests, this tortilla product is rich in fiber, yet very low in carbs. It has 14g of carbs and 9g of fiber, which gives you 5g net carbs per serving. It is a low carb tortilla made from wheat flour and is available online for only $15.47. Whether you want to cook burritos or soft tacos, this tortilla will meet all your needs. Aside from being low carb, the tortilla contains 4 grams of protein and Omega 3 from olive oil. 
The Extreme High Fiber tortilla is one of a kind product that allows you to enjoy any meal your way. The tortilla has 0mg cholesterol, 0g sugar, and 0g trans-fat. 
Many customers says this is a must have in their pantry. The tortillas are flexible; whether used for breakfast burritos or sandwiches and are a great complement for weight watchers. They are a perfect alternative to high packed carbs tortillas. They are, however, comparatively expensive 
Maria & Ricardo Organic Tortilla 
The Maria & Ricardo Organic Fiber is an amazing tortilla made to suit a keto diet lifestyle. The product contains 3 net carbs, 7g fiber, and 4g protein. Besides being low carb and keto-friendly, this tortilla flavorful and delicious. Precisely, the tortilla is as great as the tortillas you eat in restaurants. 
Each package of Maria & Ricardo Tortilla contains 8 tortillas with incredible homemade texture and taste. The tortillas are made from whole grain ingredients that bring the deliciousness of authentic Mexican diet. Besides, each tortilla is oven-baked to be soft and pliable. Also, the product contains no artificial color, artificial flavors, or preservatives. 
Some people say that these tortillas are satisfying and healthy. However, they are not packed with unhealthy ingredients like the grocery store tortillas. On the flip side, they have to be refrigerated for maximum freshness and good taste 
Mama Lupe Tortillas 
Mama Lupe tortillas are great for keto diet enthusiasts. It's amazing how these tortillas maintain their low carb profile and remain flavorful and delicious. Besides, unlike other products on the market, Mama Lupe tortillas have the original tortilla taste. It's no surprise, then, that this is Amazon's Choice tortilla. 
The tortillas can be used in place of bread in sandwiches or breakfast burritos. The best thing is that Mama Lupe tortillas cook up perfectly and only has 3 impact carbs per tortilla. One package of Mama Lupe contains 10 tortillas sold at only $17.49. 
People say these tortillas are ridiculously expensive. They are however delish, very easy to prepare, filling and have an amazing texture. Some users also say that they can be taken as chips; Just cut them into chips like shape, add a little butter and salt then pop them in your oven. 
Mission Low Carb Tortilla 
Another product on our list is the Mission Low Carb tortilla. This is a wheat flour tortilla made specifically to suit the low carb diet plan. The tortilla provides only 4g net carbs and 13g of dietary fiber. Interestingly, the tortillas are delicious and taste as great as the original Mexican flour tortilla. Each package of Mission Low Crab Tortilla contains 8 fresh tortillas. The tortillas are big and can be used to make soft tacos that are larger than a normal fajita. 
Some people complain the bland taste for keto products, the customers for this brand for the taste. It does not have a bad after taste. Some users note a slight bit of honey flavored sweetness and prefer them over the regular tortillas! 
La Tortilla Factory Tortilla 
La Tortilla Factory is a renowned manufacturer of premium-grade Mexican food products. Because of this, you only expect the tortillas to be healthy and delicious. La Tortilla Factory tortillas are made from finely ground white flour mixed with oat fiber. They also include other ingredients like soy flour and canola oil. Even better, herbs are used to give the tortillas a unique taste.  
Because of the use of multiple ingredients, the tortillas are flavorful, delicious, and high in fiber. In addition, the tortillas are healthy; precisely, each tortilla contains 3 net carbs, 5g protein, and 9g dietary fiber. What's more; the tortillas contain 0g sugars, 0g Trans fats, 0g cholesterol, and 210mg sodium.  
Some customers claim that La Tortilla Factory Tortilla is so far the best they ever found despite that one has to sacrifice the taste. Some says that these tortillas have made their diabetic life so easy that they can't live without them. 

There is no doubt; tortilla is an indispensable ingredient of the Mexican diet. Recently, tortillas have become very popular in the USA. This the reason why there is a proliferation of tortilla products in-store and even on online store. It should not be difficult to find a tortilla product that suits the dish you want to make. 
We've cherry-picked the best tortilla products that are readily available. All the products are flavorful and provide easy ways to prepare your tacos, burritos, and quesadillas. Go online or to the nearest store and grab one of these products. You will surely enjoy using them in your favorite Mexican dish.
OTHER ARTIcles you may like