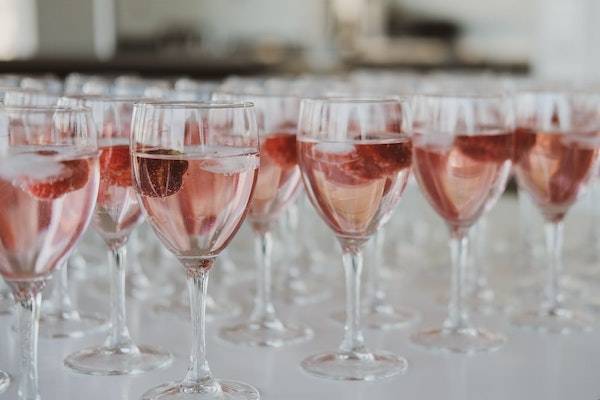 Rosé wines have been gaining a lot of attention lately. Some experts go as far as to name them the perfect party wines, hand in hand with champagne as the golden standard.But are they allowed on the keto diet? What's their usual sugar content?We've already looked into the best keto-friendly red wines and low-carb white wines. It's high time we tap into the matter of rosé!But first, what exactly is rosé wine? 

Contrary to the common misconception, rosé isn't just a blend of red and white wine.In most cases, rosé wine is made by crushing red grapes (just like you would make red wine) but then removing the grape skins several hours to no more than a few days after the crushing. This way, some color from the grape skins goes into the wine, but less than in case red wines.You could say that real rosé is premature red wine.In reality, though, a significant part of modern rosé wine products are blends of white and red wine.
It's a sad fact, but many winemakers don't include detailed nutrition facts on their wine labels. Then, the only clues you'll be able to get to see if a wine is good on keto is its type (dry, sweet, etc.) and the grape variety (some grapes are sweeter than others).Then, in the case of rosé produced through grape skin contact, the original variety of grape is one of the primary factors that define if a wine is keto-friendly. In the case of rosé blending, you'll have to look at at least two distinct types of wine.
Quick reminder: the best low-carb grape (and wine) varieties
So, since you'll have to stay alert for the grape varieties of the rosé wines that catch your eye, here's a quick rundown of the most likely options (with the likely average sugar count per 5-ounce glass in brackets): 
Red varieties: 
Pinot Noir (3.4 g) 
Tempranillo (3.6 g) 
Merlot (3.79 g) 
Shiraz / Syrah (3.79 g) 
Cabernet Sauvignon (3.82 g) 
Sangiovese (3.85 g) 
Grenache / Garnacha (4 g) 
Malbec (4.1 g) 
Zinfandel (4.2 g) 
White varieties: 
Sauvignon blanc (3.01 g) 
Pinot grigio / Pinot gris (3.03 g) 
Chardonnay (3.18 g) 
Chenin Blanc (4.9 g) 
Another thing to keep in mind is the type of wine. The dryness of each wine is set by the amount o sugar in it, specifically: 
Bone-dry - less than 0.5% residual sugar 
Dry - 0.5-1% 
Semi-dry (medium dry) - 1-2% 
Semi-sweet (medium sweet) - 2-3% 
Sweet - more than 3% residual sugar
How to find a keto-friendly rosé wine
Ideally, if no straightforward carb/sugar info is available on the bottle, you should look for a keto-friendly grape plus a keto-friendly wine dryness (preferably just dry). 
So, when looking for a keto-friendly rosé wine, here's what your potential best pick could look like (key words in bold): 
- Winter's Hill Estate Pinot Not Dry Rosé 
- Pedroncelli Dry Rosé of Zinfandel 
Running up, these wines are probably keto-friendly, but it's hard to be sure without extra research: 
- Fullerton Three Otters Pinot Noir Rosé 
- Illahe Tempranillo Rosé 
- Protea Dry Rosé 
And here are a few probably bad options: 
- Castello del Poggio Sweet Rosé. The sweet in the name says it all) 
- Yellow Tail Pink Moscato Rosé. Moscato is a rather sweet wine variety 
Not in the mood for extensive searching high and low?
Our 3 keto-friendly rosé wines with confirmed low carb content 

Franzia Rosé 
111 calories, 7 g carbs, 2.9 g sugar per 5 oz. glass 
Nothing too fancy, nothing too classy, but it's a reliable relatively low-carb rosé with clear nutrition info. Light, refreshing, easy to drink, and comes in packages of up to 169 ounces (34 glasses!) each. The best part? It's 34 glasses for something close to $20. 
Skinnygirl California Rosé 
100 calories, 5 g carbs per 5 oz. glass 
A delicate blend of Syrah and Grenache, this rosé packs around 15% fewer calories than most other wines. Great for people on a tight calorie count. 
FitVine Rosé 
112 calories, 2.8 carbs, 0.09 sugar per 5 oz. glass 
Hands down, one of the safest rosé wines to drink on the keto diet—and one of the best low-carb wine brands in general.
- Some rosé wines are keto-friendly while others are packed with sugars 
- To be 100% sure you're on the safe side, look for a bottle with clear nutrition info and carb/sugar count. Sadly, that's a rare practice in winemaking 
- Two indirect signs a rosé is keto-friendly is a low-sugar grape and the dryness of the drink. For example, a Pinot Noir Dry Rosé is most likely okay to drink on keto. Many rosé wines don't mention either of these on their labels 
- For a quick solution to the rosé wine dilemma, try one of our three favorite low-carb rosé wines: Franzia Rosé, Skinnygirl California Rosé, and FitVine Rosé.
Other articles you may like