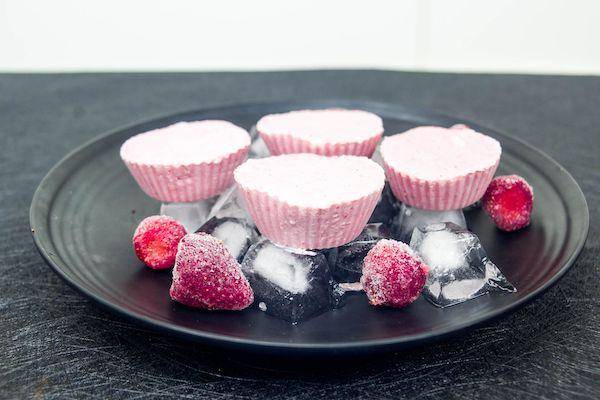 Believe it or not but you can achieve this delicious strawberry cream cheese bites in less than 5 ingredients!
Ingredients:
1 cup (150g) strawberry, diced
1 tsp vanilla extract
¼ cup (50g) coconut oil
¾ cup (170g) cream cheese, softened
How to prepare:
Place the strawberries in a blender until pureed.
Add the vanilla extract, coconut oil, and softened cream cheese, and blend until the texture is silky smooth.
Line a 12-cup muffin with liners (we used silicone liners) or grease with coconut oil. Divide the mixture between the cups.
Freeze for 2 hours or until solid.
Store in the freezer.
Enjoy!

Serving: 12 
Nutrition Facts:
| | | | |
| --- | --- | --- | --- |
| | Grams | Calories | Percentage |
| Protein | 0 | 1.8 | 1.35% |
| Fat | 6 | 53.4 | 40.69% |
| Carbohydrates | 19 | 76.1 | 57.96% |
 TOTAL CALORIES :            131.3


other articles you may like: