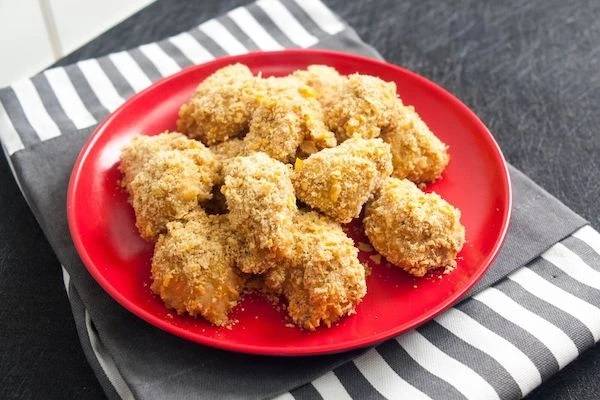 Keto chicken nuggets are one of the easiest dishes to make and we're sharing it to you!
Ingredients:
Boneless chicken, diced into nuggets
1 tsp black pepper
1 tsp salt
1 tsp smoked paprika
½ tsp chili powder or cayenne
½ tsp garlic powder
2 tsp Italian seasoning
½ bag pork rinds
3 tbsp mayo
3 tbsp dijon mustard
1 egg
How to prepare:
Dice raw boneless into tiny nuggets.
Season with black pepper, salt, smoked paprika, chili powder or cayenne, garlic powder, and Italian seasoning. Mix well.
Crush a bunch of pork rinds about a half bag until finely crushed. Set aside.
In a mixing bowl, mix mayo, dijon mustard, egg. Whisk well.
Add seasoned raw chicken nuggets to wet ingredients then toss pork rinds.
Coat chicken nuggets well with sauce and pork rinds.
Bake nuggets on 425 for 35 minute or you can fry at 350 for 10 minutes.

Serving: 5
Nutrition Facts:
| | | | |
| --- | --- | --- | --- |
| | Grams | Calories | Percentage |
| Protein | 20 | 79.5 | 35.06% |
| Fat | 16 | 142.7 | 62.93% |
| Carbohydrates | 1 | 4.5 | 2.00% |
 TOTAL CALORIES :            226.8
OTHER ARTICLES YOU MAY LIKE: