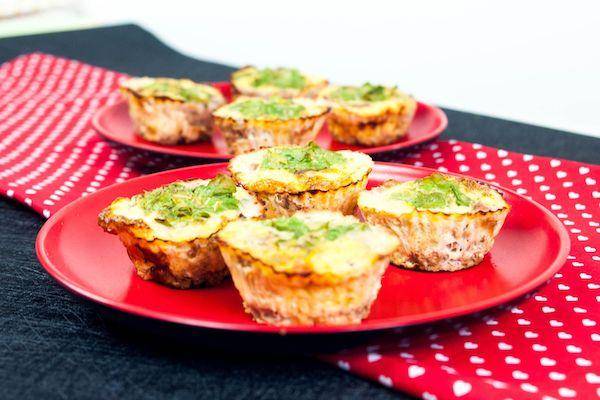 When you have all the time to prepare a sweet breakfast, consider making the ground beef eggs, cheese muffins with spinach! A healthy way to start a beautiful day!
Ingredients:
3 lbs ground beef
1 cup spinach chopped
½ cup cheese
½ cup onions chopped
14 eggs scrambled
1 spoon Himalaya salt
Jalapeno as desired, chopped
3 spoons of mustard
1 tomato chopped
½ cilantro chopped
How to prepare:
Mix ground beef with the mustard, jalapeno, onions, and salt, cilantro, tomatoes.
Transfer ingredients to cupcake pan.
Make small meatball with ground beef. Everything to be mixed.
Cover your little tray to the top. Leave space in the middle to fill it with the cheese and spinach. Then last would be your scrambled eggs.
Preheat oven to 350 to 400. Once hot, put your trays and lower down to 300.
Cook for 25 to 30 minutes. Once the eggs turn golden brown, you are all done.

Serving: 54 
Nutrition Facts:
| | | | |
| --- | --- | --- | --- |
| | Grams | Calories | Percentage |
| Protein | 350.6 | 26 | 35.64% |
| Fat | 265.2 | 44.2 | 60.64% |
| Carbohydrates | 36.6 | 2.7 | 3.72% |
 TOTAL CALORIES :            72.9


OTHER ARTICLES YOU MAY LIKE: