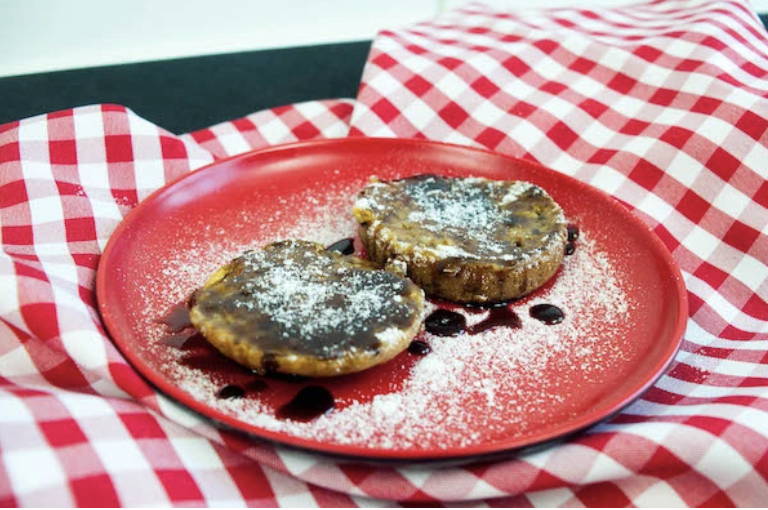 This french toast recipe is so easy to make and perfect for breakfast or brunch! Enjoy the best toast ever!
Ingredients:
Bread:
1 tablespoon coconut flour
1¼ tablespoon butter melted
1 egg
1 teaspoon cream cheese
¼ teaspoon baking powder
1/4 tsp cinnamon
pinch of nutmeg
French Toast:
1 egg
1/4 cup heavy whipping cream
1/4 tsp Swerve Confectioners Sugar
How to prepare:
Melt butter in a ceramic or glass bowl. (mine was about 6 inches).
Add the rest of the ingredients and whisk together until combined.
Cook in the microwave for 90 seconds.
Remove from the microwave and allow to cool for a minute or two.
Cut bread in half like a bun (each side will be thin).
In a flat dish add 1 egg and 1/4 cup heavy whipping cream and combine with a whisk.
Soak bread on both sides in egg and heavy whipping cream mixture.
Heat 1 tablespoon of butter in a skillet and fry each side until crisp.
Sprinkle 1/4 teaspoon Swerve Confectioners Sugar on top and serve with sugar-free syrup.
Serving: 1 

Nutrition Facts:
| | | | |
| --- | --- | --- | --- |
| | Grams | Calories | Percentage |
| Protein | 13 | 51.8 | 10.77% |
| Fat | 44.4 | 399.3 | 82.94% |
| Carbohydrates | 7.6 | 30.3 | 6.29% |
 TOTAL CALORIES :            481.5


OTHER ARTICLES YOU MAY LIKE: