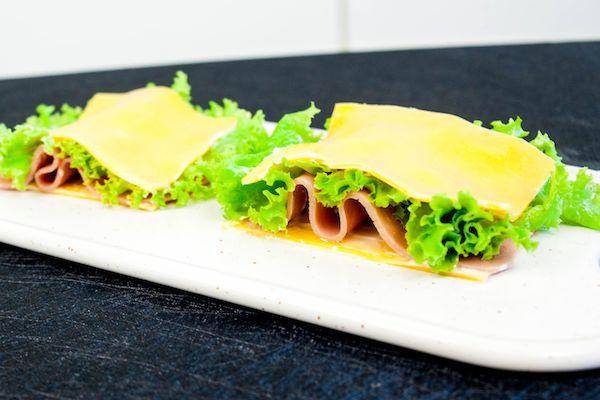 This is more a method than a recipe! Very easy to make simple cheese sandwich!
Ingredients:
4 slices of Cracker barrel natural cheddar (or marble) cheese
4 Tbsp butter
2 Tbsp Mayonnaise
Meat of your choice (Chicken)
Lettuce
How to prepare:
Divide and spread the 4 tbsp of butter onto two of the cheese slices.
Divide and spread the 2 tbsp of mayonnaise onto the other two cheese slices.
Put amount of meat you want on 2 cheese slices with mayonnaise and top with amount of lettuce you want.
Put cheese slices with butter on top, butter side to the lettuce.

Serving: 1
Nutrition Facts:
| | | | |
| --- | --- | --- | --- |
| | Grams | Calories | Percentage |
| Protein | 30 | 121.4 | 12.11% |
| Fat | 98 | 879.6 | 87.77% |
| Carbohydrates | 0 | 1.2 | 0.12% |
 TOTAL CALORIES :           1002.1
Other articles you may like: