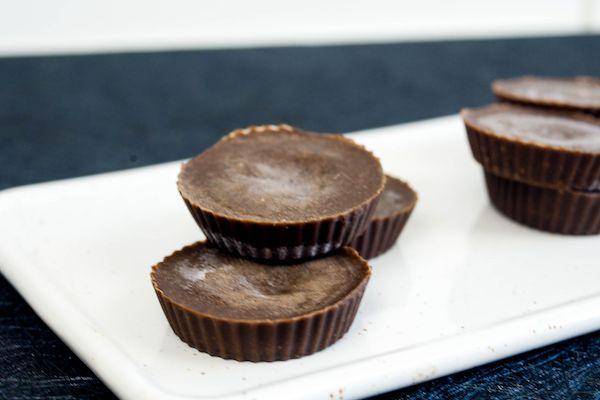 These peanut butter chocolate fat bombs are VERY similar to our nut butter cup recipes, but with a different sweetener. 
Ingredients:
½ cup organic virgin coconut oil
½ cup natural peanut butter or almond butter (with less than 5 grams of sugar)
2-3 tbsps unsweetened cocoa powder
2-4 tbsps swerve (or sweetener to taste)*
Splash of vanilla extract (optional)
How to prepare:
In a large skillet over low heat melt coconut oil and peanut butter.
Stir in cocoa powder.
Stir in swerve.
Remove from heat and add vanilla extract if using.
Pout into a spouted cup to make pouring easier.
Pour mixture into silicone candy molds. (My molds holds over ½ tbsp)
Freeze or refrigerate until set
Remove from molds and store in the fridge in an airtight container.
Eat one fat bomb to curb appetite or satisfy your sweet tooth.

Serving: 10 
Nutrition Facts:
| | | | |
| --- | --- | --- | --- |
| | Grams | Calories | Percentage |
| Protein | 4 | 16.1 | 6.99% |
| Fat | 18 | 158.9 | 69.00% |
| Carbohydrates | 14 | 55.3 | 24.01% |
 TOTAL CALORIES :           230.4
OTHER ARTICLES YOU MAY LIKE: