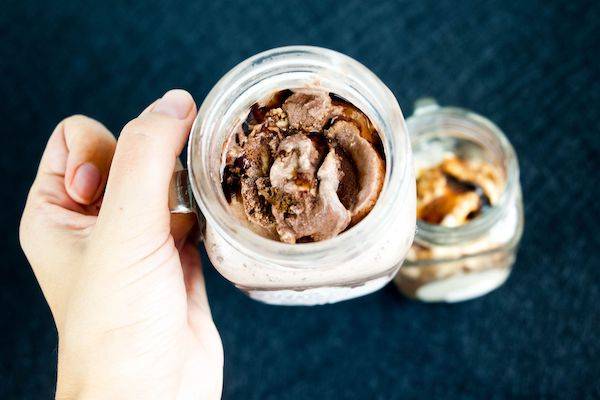 In a rush for some dessert? Here's a quick
 and easy 5-minute 
low carb chocolate mason jar chocolate and vanilla ice cream recipe!
Ingredients:
2 cups heavy whipping cream
1 tbsp unsweetened cocoa powder
1 tbsp of sugar-free chocolate syrup
1 tbsp pure vanilla
2 tbsp stevia or Splenda
How to prepare:
Put everything in a mason jar. Close the lid and shake vigorously for 5 minutes.
Freeze for 3 hours.
For the vanilla ice cream, just omit the cocoa powder and chocolate syrup.
Enjoy!

Serving: 6 
Nutrition Facts:
| | | | |
| --- | --- | --- | --- |
| | Grams | Calories | Percentage |
| Protein | 2 | 6.3 | 1.85% |
| Fat | 31 | 274.5 | 79.99% |
| Carbohydrates | 16 | 62.3 | 18.16% |
 TOTAL CALORIES               343.2
other articleS you may like: