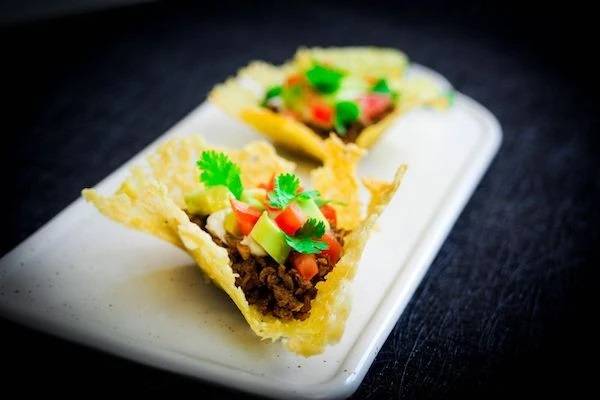 Craving for an old favorite? This keto taco heaven will make you feel giddy to make as an alternative to an all-time favorite!
Ingredients:
3 ½ cup shredded cheddar
1 tbsp extra virgin olive oil
1 onion, chopped
3 cloves garlic, minced
1 lb ground beef
1 tsp chili powder
½ tsp ground cumin
½ tsp paprika
Kosher salt pinch
Freshly ground black pepper pinch
Sour cream, for serving
Diced avocado, for serving
Chopped cilantro, for serving
Chopped tomatoes, for serving
How to prepare:
Preheat oven to 375F and line a large baking sheet with parchment paper. Spoon about a tablespoon of cheese a few inches apart. Bake until bubbly and edges are beginning to turn golden, about 6 minutes. Let cool on baking sheet for a minute.
Meanwhile, grease bottom of a muffin tin with cooking spray, then carefully pick up melted cheese slices and place on bottom of muffin tin. Let cool 10 minutes.
In a large skillet over medium heat, heat olive oil. Add onion and cook, stirring occasionally until soft, about 5 minutes. Stir in garlic then add ground beef, breaking up the meat with a wooden spoon. Cook until beef is no longer pink, about 6 minutes, then drain fat. Season with chili powder, cumin, paprika, salt, and pepper.
Transfer cheese cups to a serving platter. Fill with cooked ground beef then top with sour cream, avocado, cilantro, and tomatoes.

Serving: 5
Nutrition Facts:
| | | | |
| --- | --- | --- | --- |
| | Grams | Calories | Percentage |
| Protein | 40.3 | 161.2  | 27.54% |
| Fat | 41 | 369.4 | 63.11% |
| Carbohydrates | 13.7 | 4 | 54.7%% |
 TOTAL CALORIES:            585.3
OTHER ARTICLES YOU MAY LIKE: