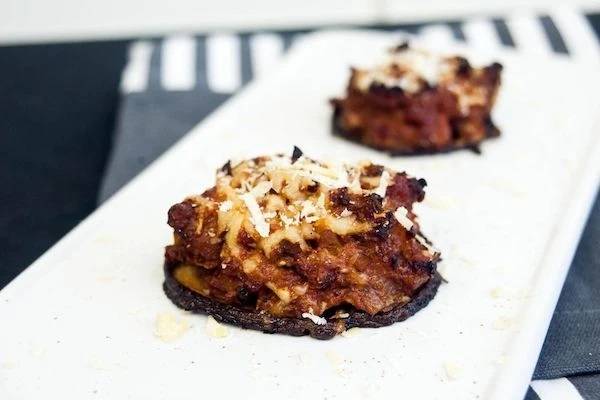 Golden caramelized onions and creamy roasted garlic are an ideal match for the flavors in this Italian Stuffed Portabellos.
Ingredients:
1 tbsp butter
2 cloves garlic, minced
2 mushrooms
¼ small yellow onion
¼ green bell pepper
Onion
Pepper
½ lb ground Italian sausage
⅓ cup shredded mozzarella
2 oz cream cheese
Salt
How to prepare:
Remove the stem of mushroom and save.
Scrape gills from the inner part of the mushroom.
In microwave or stove, melt butter with 2 cloves of smashed garlic and Italian seasoning. Brush butter on the outside and inside of the mushroom.
In a food processor, grind onion, bell pepper, mushroom stems, and garlic. Sautee on stovetop for a few minutes until softened.
In a mixing bowl, add onion and pepper mixture, Italian sausage, mozzarella, cream cheese, salt, pepper, and other seasonings of your choice and stuff meat mixture into mushrooms.
Top with additional mozzarella.
Bake in 375˚ oven for 30 minutes or until meat is cooked.
Serve.

Serving: 2 
Nutrition Facts:
| | | | |
| --- | --- | --- | --- |
| | Grams | Calories | Percentage |
| Protein | 11 | 42.3 | 14.88% |
| Fat | 20 | 175.8 | 61.90% |
| Carbohydrates | 16 | 65.9 | 23.22% |
 TOTAL CALORIES :           284.0
OTHER ARTICLES YOU MAY LIKE: