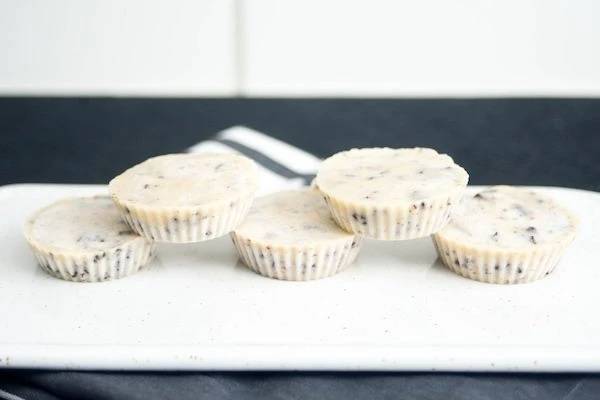 The chocolate chip cheesecake fat bombs recipe is another quick and no-bake dessert made with cream cheese, coconut oil, and vanilla.
Ingredients:
4 oz cream cheese softened at room temperature
4 tbsps melted butter
¼ cup coconut oil does not have to be melted
2 tbsps zero-calorie sweetener
¼ cup chocolate chips (You can use Lily's sweetened with Stevia)
1 tsp vanilla extract
How to prepare:
Add the cream cheese, melted butter, coconut oil, sweetener, and vanilla extract to a mixing bowl.
Using a hand mixer or standing mixer, mix for a couple of minutes until smooth.
Fold in the chocolate chips. You can retain a few to add as a topping to each bomb if you wish.
You can either line a mini cupcake pan with cupcake liners or go without liners.
Spoon the mixture into the cupcake/muffin tin. The ingredients above will make 12 small fat bombs. Double the ingredients for 24 fat bombs.
Smooth the top of each bomb with a spoon or knife.
Freeze for 30 minutes. (I noticed the bombs had hardened around 30 minutes. I have also done 2 hours.)
Remove from the tray and serve!

Serving: 12 
Nutrition Facts:
| | | | |
| --- | --- | --- | --- |
| | Grams | Calories | Percentage |
| Protein | 1 | 3.6 | 2.77% |
| Fat | 12 | 108.8 | 82.83% |
| Carbohydrates | 5 | 18.9 | 14.40% |
 TOTAL CALORIES :           131.4
other articles you may like: