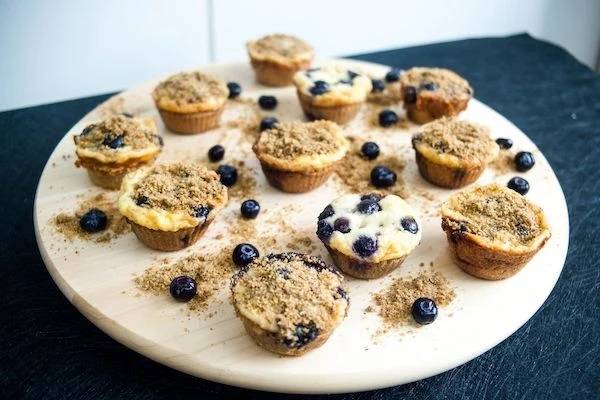 This blueberry cream cheese muffin is the perfect recipe filled with cream cheese and topped with so much streusel!
Ingredients:
4 large eggs
¼ cup water
1 tbsp vanilla extract
2 cups blanched almond flour
½ cup sugar substitute
1 tbsp baking powder
½ cup fresh blueberries
Cheese Filling:
8 oz cream cheese, softened
1 large egg, beaten
½ cup fresh blueberries
Streusel Topping:
½ cup blanched almond flour
2 tbsp sugar substitute
1 ½ tbsp unsalted butter, cold
½ tsp ground cinnamon
How to prepare:
Place oven rack in the center position and preheat oven to 375F. Line a 12-cup muffin pan with paper liners.
In a large bowl, beat 4 eggs until frothy. Add the water and vanilla extract, and whisk to combine.
In a separate bowl, mix the 2 cups almond flour, sugar substitute, and baking powder. Whisk the dry ingredients into the wet ingredients until all is combined. Fold ½ cup of blueberries into the batter.
Create the cheese filling by whisking together cream cheese and egg. Spoon equal amounts of the mixture onto the batter in the prepared muffin cups. Top evenly with the second ½ cup of blueberries.
Combine all Streusel topping ingredients, using a fork to cut the butter into the topping. Crumble equally over the top of each muffin.
Bake for 20-25 minutes, or until muffins are firm and spongy, and a toothpick inserted into the center of one comes out mostly clean. Let cool for 10 minutes before removing from the pan. Server warm or chilled. Store refrigeration.

Serving: 12 
Nutrition Facts:
| | | | |
| --- | --- | --- | --- |
| | Grams | Calories | Percentage |
| Protein | 9 | 36.1 | 13.83% |
| Fat | 21 | 190.4 | 73.01% |
| Carbohydrates | 9 | 34.3 | 13.17% |
 TOTAL CALORIES :           260.8
other articles you may like: