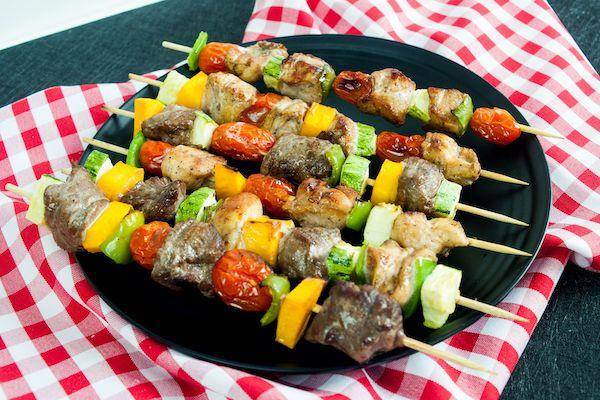 You don't need an outdoor grill to enjoy these keto kabobs! And don't you just love kabobs cooked on the grill?
Ingredients:
Zucchini
Yellow squash
Red onion
Mushroom
Grape tomatoes
Bell pepper
Chicken
Angus beef
2 tbsp Worcestershire
1 tbsp soy sauce
½ tsp black pepper
½ tsp pink salt
¼ tsp garlic powder
¼ tsp meat tenderizer powder (chicken only add the chicken and poultry rub
How to prepare:
Marinate both chicken and beef with Worcestershire sauce, soy sauce, black pepper, pink salt, garlic powder. Mix and leave.
Dice up all veggies into bit larger than bite-size pieces. Begin to stack meat and veggies in whatever order you wish.
Top with tomato.
Grill for about 15-20 minutes constantly flipping to ensure proper cooking of all meat, eat.

Serving: 6
Nutrition Facts:
| | | | |
| --- | --- | --- | --- |
| | Grams | Calories | Percentage |
| Protein | 16 | 65.4 | 26.22% |
| Fat | 16 | 144.2 | 57.85% |
| Carbohydrates | 10 | 39.7 | 15.93% |
 TOTAL CALORIES :            249.2
OTHER ARTICLES YOU MAY LIKE: