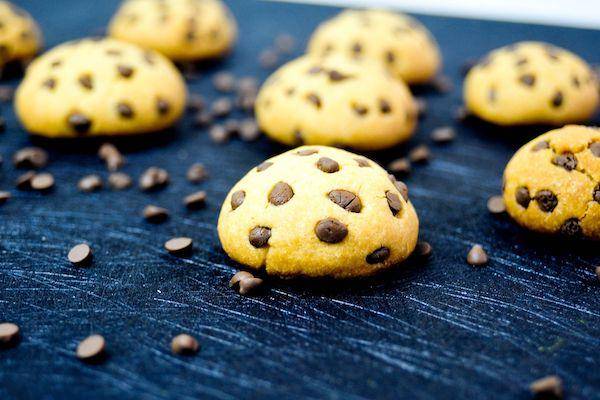 Chewy and lightly crisp! These bakery-style
keto chocolate chip cookies
 are utterly amazing and you will surely go for more! 
Ingredients:
1 ½ cup almond flour
½ cup salted butter
¾ cup natvia (erythritol)
1 tsp vanilla extract
1 egg
½ tsp baking powder
¼ tsp salt
½ tsp xanthan gum
¾ cup sugarfree choco chips
How to prepare:
Preheat oven to 355F. Zap butter for 30 seconds to melt.
Place butter into mixing bowl, beat with the erythritol. Add vanilla and egg, mix on low for another 15 seconds.
Add almond flour, xanthan gum, baking powder, salt. Mix well.
Press the dough together. Remove from bowl and add in chocolate chips into dough with hands.
Roll the dough to make 12 balls, place on a baking tray and bake for 12 mins in 370F.
Let cool and serve.

Serving: 12
Nutrition Facts:
| | | | |
| --- | --- | --- | --- |
| | Grams | Calories | Percentage |
| Protein | 5 | 19.4  | 7.07% |
| Fat | 20 | 180.8 | 65.78% |
| Carbohydrates | 19 | 74.6 | 27.15% |
 TOTAL CALORIES :           274.9


OTHER ARTICLES YOU MAY LIKE: