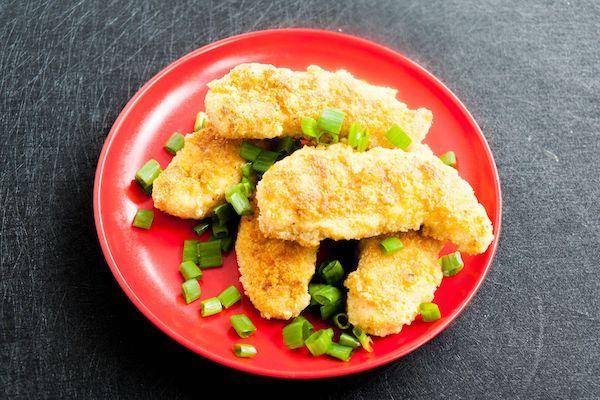 These crispy parmesan chicken tenders 
result in a crispier and crunchier
 end product than breadcrumbs! Must-try!
Ingredients:
2 pounds chicken tenders
Olive oil
Almond flour
3-4 eggs
3 cups pork rinds, crushed
1 cup grated Parmesan cheese
1 ½ tsp garlic powder
1 ½ Italian seasoning
How to prepare:
Set up 3 large bowls or pans. Place chicken in the first bowl. Beat 2 eggs in middle bowl. And in the right bowl, mix together the almond flour, pork rinds, Parmesan, garlic powder, and seasoning.
Pour enough olive oil into a skillet to cover the bottom and heat over medium-low.
While skillet is heating up, dip floured chicken in egg and cover completely. Add a third beaten egg, if needed.
Then dip chicken in the pork rind mixture and coat with the mixture.
Repeat again. Dip in egg then coat in mixture.
Once the oil in the skillet is hot, place the chicken in the pan — tongs work well for this. Do not turn the chicken until it is golden, crunchy brown.
Brown the second side until chicken is cooked through. To be sure, remove a piece and cut through the chicken.
Set up a plate lined with paper towels. Remove cooked chicken and place on your towels.

Serving: 5
Nutrition Facts:
| | | | |
| --- | --- | --- | --- |
| | Grams | Calories | Percentage |
| Protein | 60 | 239.6 | 30.54% |
| Fat | 57 | 517.1 | 65.91% |
| Carbohydrates | 7 | 27.9 | 3.55% |
 TOTAL CALORIES :            784.5
OTHER ARTICLES YOU MAY LIKE: