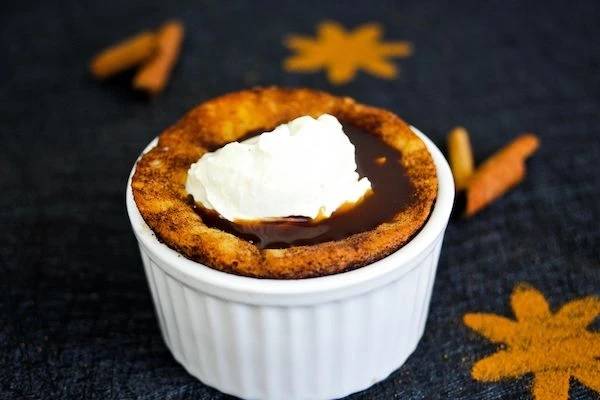 Make tomorrow's breakfast something worth getting up for. These keto friendly cinnamon rolls are delicious with a mouthful of wonderful flavors. This is a nice and easy recipe for anyone to use.
Ingredients:
Cake:
1 tbsp butter, melted
2 tbsp almond flour
½ tsp cinnamon
1 tsp stevia or sweetener of choice
½ tsp baking powder
1 egg
Glaze:
1 tsp cinnamon
1 ½ tbsp butter, melted
½ tbsp stevia
Icing:
1 tbsp cream cheese
1 tbsp heavy cream
½ tbsp stevia
How to prepare:
Dump all your cake ingredients into your preferred mug. Mix extremely well until you get a smooth batter. Set aside.
In another small bowl, mix glaze ingredients. Put in the microwave for about 20-30 seconds or until they're melted together nicely. Stir your glaze so everything is mixed together well with no lumps.
Use about half the glaze mixture and drop it onto your mixed cake batter. Then take a knife or toothpick to swirl the glaze within the mixture.
Pop the cake mixture into the microwave for 60 seconds. Your mixture should rise nicely and pull away from the sides of your mug or ramekin. Remove from microwave and set aside. (Note: Every microwave is different so keep a close eye on your cake as it's cooking and don't be afraid to pull it out early if it looks quickly or give it extra time if your microwave heats a little slower.)
Put your icing mixture into a small bowl and microwave for about 15-20 seconds or until all the ingredients easily melt together when stirred. Depending on how thin and "drippy" you want your icing, feel free to add a bit more cream if it appears to be too thick. Mix thoroughly until there are no lumps.
Use a knife to loosen your cake from the sides of your mug or ramekin. Flip onto a plate. Take the rest of your glaze and pour over cake.
Take icing and pour over cake. You can use a knife to smooth the icing all over the cake (depending on thickness) or let the icing drip over your cake. Enjoy!

Serving: 1
Nutrition Facts:
| | | | |
| --- | --- | --- | --- |
| | Grams | Calories | Percentage |
| Protein | 8.9 | 35.7  | 7.60% |
| Fat | 45.8 | 412.3 | 87.71% |
| Carbohydrates | 5.5 | 22 | 4.69% |
 TOTAL CALORIES :            470.1
OTHER ARTICLES YOU MAY LIKE: