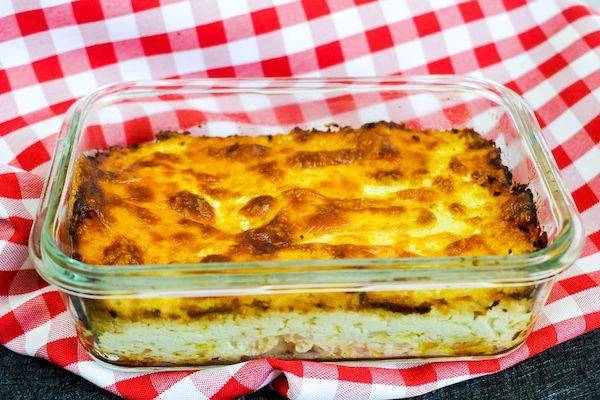 Indulge your family with this easy, creamy, and delicious Chicken Cordon Bleu Casserole for lunch and give them something to keep them full halfway through the day!
Ingredients:
6 cups shredded cooked chicken (from about 2 lbs chicken)
6 oz ham, cut into bite-size pieces
4 oz butter, melted
6 oz cream cheese, softened
1 tbsp dijon mustard
1 tbsp white wine, optional
1-2 oz lemon juice (use the full amount if you love lemon)
½ tsp salt
5 oz Swiss cheese
How to prepare:
Preheat the oven to 350F. Put the chicken in the bottom of a 9x13 baking dish. Layer the pieces of ham on the top.
In a blender, combine the melted butter, softened cream cheese, white wine (optional), mustard, lemon juice, and salt. Blend until a thick sauce forms. Spread this sauce over the chicken and ham in the baking dish.
Lay the slices of Swiss cheese on top of the sauce. Bake for 30-40 minutes until hot.
Broil for 2 minutes in the end so the cheese would get more golden and bubbly but don't leave unattended as it's easy to burn the cheese topping.

Serving: 8
Nutrition Facts:
| | | | |
| --- | --- | --- | --- |
| | Grams | Calories | Percentage |
| Protein | 33 | 131.2 | 45.81% |
| Fat | 16 | 146.7 | 51.22% |
| Carbohydrates | 2 | 8.5 | 2.98% |
 TOTAL CALORIES :            286.5


other articles you may like: