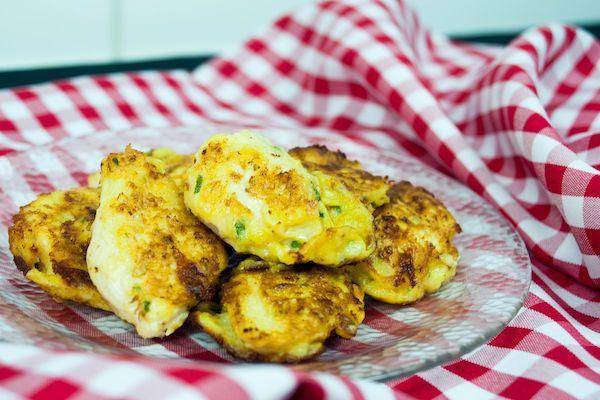 Cheesy chicken fritters always get glowing reviews. So if you love easy chicken recipes, this recipe is for you!
Ingredients:
1 1/2 lbs (3 large) chicken breasts
2 large eggs
5 Tbsp (about 1/3 cup) mayonnaise
1/3 cup all-purpose flour (or cornstarch or potato starch for gluten-free option)
4 oz (1 1/3 cups) shredded mozzarella cheese
1 1/2 Tbsp chopped fresh dill
1/2 tsp salt and
1/8 tsp black pepper, or to taste
Extra light olive oil, or any high heat cooking oil to sautee
How to prepare:
Using a sharp knife, dice chicken into 1/3″ to 1/2″ thick pieces and set aside.
In a medium bowl combine batter ingredients: 2 eggs, 5 Tbsp mayo, 1/3 cup flour, 1 1/3 cups mozzarella, 1 1/2 Tbsp dill, 1/2 tsp salt and 1/8 tsp black pepper. Stir until well combined. Stir in diced chicken, cover with plastic wrap and marinate in the refrigerator at least 2 hours, or overnight.
Heat a large non-stick pan over medium heat. Add 2 Tbsp oil and when oil is hot, add the chicken mixture a heaping tablespoon at a time (I used a flat ice cream scoop for uniform sizes).
Pat down the fritters with the back of your spoon to flatten them slightly. Saute uncovered 3 – 4 min on the first side then flip and saute uncovered 3 min on the second side or until golden brown and fully cooked through. Repeat with remaining fritters. Remove to a paper towel-lined plate.
Serve these chicken fritters with garlic aioli dip if desired and enjoy!! They'd also be great as mini sandwiches (sliders).

Serving: 16-18 
Nutrition Facts:
| | | | |
| --- | --- | --- | --- |
| | Grams | Calories | Percentage |
| Protein | 9 | 37.7 | 28.03% |
| Fat | 10 | 87.0 | 64.69% |
| Carbohydrates | 2 | 9.8 | 7.28% |
 TOTAL CALORIES :           134.4
OTHER ARTICLES YOU MAY LIKE: