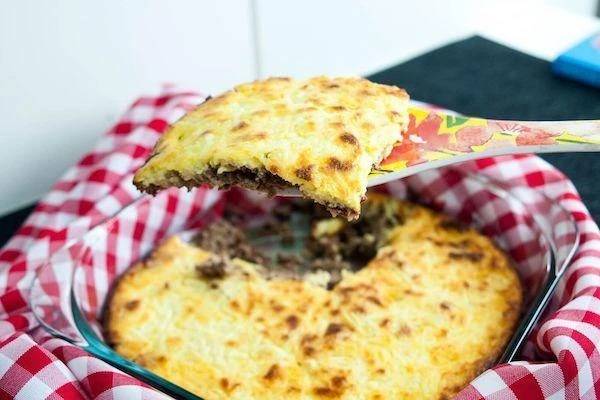 On the hunt for a low carb cheeseburger casserole, this is the recipe for you!
Ingredients:
1 pound ground beef
1/2 cup onion chopped
2 garlic cloves minced
1 teaspoon Worcestershire sauce
2 oz cream cheese
2 eggs
2 tablespoons mustard
1/2 cup heavy whipping cream
2 cup Mexican style shredded cheese divided
1 teaspoon Steak Seasoning
salt and pepper to taste
6 slices bacon cooked and cut up
How to prepare:
Preheat oven to 350 degrees.
Place the ground beef in a skillet over medium-high heat.
Add the garlic, onions, steak seasoning, and salt and pepper to taste Add the Worcestershire sauce and cream cheese.
Cook until the ground beef is no longer pink and the cream cheese has melted.
In a bowl, combine the eggs, 1 cup cheese, heavy cream, and mustard.
Spray a 9x9 baking dish with cooking spray. Pour the ground beef mixture into the dish.
Sprinkle with bacon. Drizzle the liquid mixture on top. Sprinkle the remaining 1 cup cheese on top.
Bake for 15-20 minutes.

Serving: 6
Nutrition Facts:
| | | | |
| --- | --- | --- | --- |
| | Grams | Calories | Percentage |
| Protein | 26 | 103.5 | 22.97% |
| Fat | 37 | 329.2 | 73.10% |
| Carbohydrates | 4 | 17.7 | 3.93% |
 TOTAL CALORIES                                              450.4
OTHER ARTICLES YOU MAY LIKE: